History is mysterious and exciting. Just when we think we've found out all there is to know about a certain event, new evidence is discovered. Although humans look to the future, they can't help but look back. The fact of the matter is that the world as we know it has been shaped by previous generations and there are certain monumental events that will never be forgotten. What better way to celebrate them than by immortalizing them with incredible photography? The following historic photos show us a glimpse of life since World War I.
A few weeks back we shared with you breath-taking photography taken of Calcified Animals on the Lake Natron, and today we would like to present some of the best rare historic photos.
1. In 1972, Charles Duke embarked on the mission to explore the moon's surface with a lunar roving vehicle. While he was there, he also took a picture of himself, his wife, and his two sons, which he sealed in plastic. He left it on the moon's surface, and it probably remains there to this day.
2. The Hidenburg Disaster, May 6, 1937
3. Everyone knows how the Statue of Liberty look finished, but have you ever seen a photo of it under construction? Here's a great one, from Paris in 1884. Lady Liberty was actually a gift from the French to the Americans.
4. Evils Presley in the Army, in 1958
5. Back in 1947, 23-year-old Evelyn McHale jumped from the observation deck of the Empire's State building, and crashed on a limousine parked beneath. This photography was taken soon after by photography student Robert Wiles. It was re-used years later by Andy Warhol for an art print.
6. Martin Luther King, Jr. with his son, removing a burnt cross from his front yard, 1960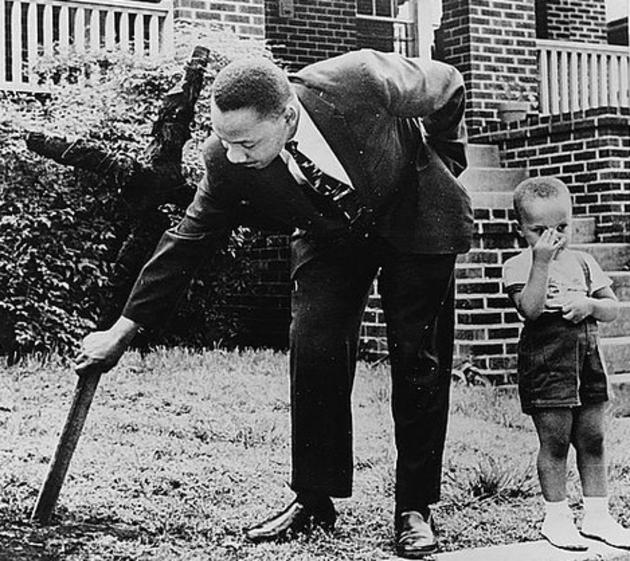 7. Hotel owner pouring acid in the pool while African-Americans were still in it.
8. The Titanic accident was indeed a great tragedy that most of us remember through the eyes of the Oscar Winning movie. Here's is a photo from 1912, when the survivors were boarding the Carpathia ship.
9. It's rare to see a man laugh during his execution. This was the case of a Russian Spy who was caught and executed in 1939, in Finland, during the Winter War.
10. An incredible photo of Tsar Nicholas II, who allows his daughter, the Duchess Anastasia to smoke from his pipe.
11. Did you know what Queen Elizabeth participated in World War II? Here are some images. You should also check out our article about the Impending International political problems that might hint a WWIII scenario.
12. Construction of the Berlin Wall, in 1961
13. A photo of the infamous lion roar on the MGM logo, taken from another angle.
14. Osama Bin Laden was immortalized with his family, in 1970, in Sweden. He is the one with green shirt and blue pants. (second on the right).
15. Before the rise of the Taliban in Afghanistan, the country was preparing to adopt democracy, and equal rights for women. During that time, women also had access to books, non-traditional clothing, education, public transportation, and spaces. This didn't last long, as, since 1990's, the Taliban government from the forbid them access to education.
Image Sources: 9gag.com, TheBoredPanda